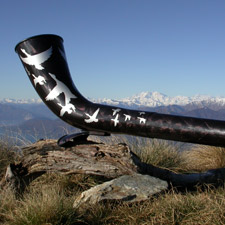 An alphorn complete in six tonalities : G, F#, F, E, Eb and D; with or without decoration on the bell; plastic mouthpiece; horn mouthpiece adaptor; carrying bag and maintenance/use book.
Details :
Kit AlpFlyingHorn : CHF 3700.-
6 keys included (G,F sharp, F, E, E flat, D)
First 5 tubes : 1A, 1B, 1C, 1D, 1E (1C,1D,1E = sliding tubes in 3 parts)
7 tubes : 2A, 3, 4, 5, 6A, 7, 8, 9
Tube 6B (one half tone up than 6A)
Fine tuning tube 2B (in 3 parts : 2Ba + 2Bb + reducer)
1 bell
1 mouthpiece in Delrin
1 transport bag and case
Kit AlpFlyingHorn with decoration : CHF 3900.-
Decoration (cow, moose, buffalo, eagle, horse, goats, elephant, geese fly, cows fight)
Special decoration "red bell and white cross" : CHF 400.-
Options :

Option decoration afterwards : CHF 300.-
Delrin mouthpieces ⌀ 17-25 mm (many different forms) : CHF 50.-
Mouthpiece adaptors for horn and trombone, sizes : 8 mm-10-11-12-12,5 and 14,5 mm : CHF 25.-
Mouthpieces Didjeridoo (n° 4) : CHF 12.-
Bag :
Opportunity to purchase separately the bag. Price on request.
Prices and technical changes are reserved. Cash down or COD.
All the prices are in Swiss franc and do not included VAT.
Download the price list and the user guide
We attempt to keep several colors and designs in stock. If one needs to be ordered from Switzerland, there could be a two to four month waiting period.
By special agreement with Florence Zanetti, if you are planning a trip to Switzerland, you may visit the AlpFlyingHorn Factory and purchase your alphorn there. You may contact her by email at zaneth@bluewin.ch or info@swisscarbonalphorn.net
NEW : Contact for CANADA :
Yvan Zanetti
Email : yvanzanetti@gmail.com